A major announcement. Plus the track festival that's changing car shows forever.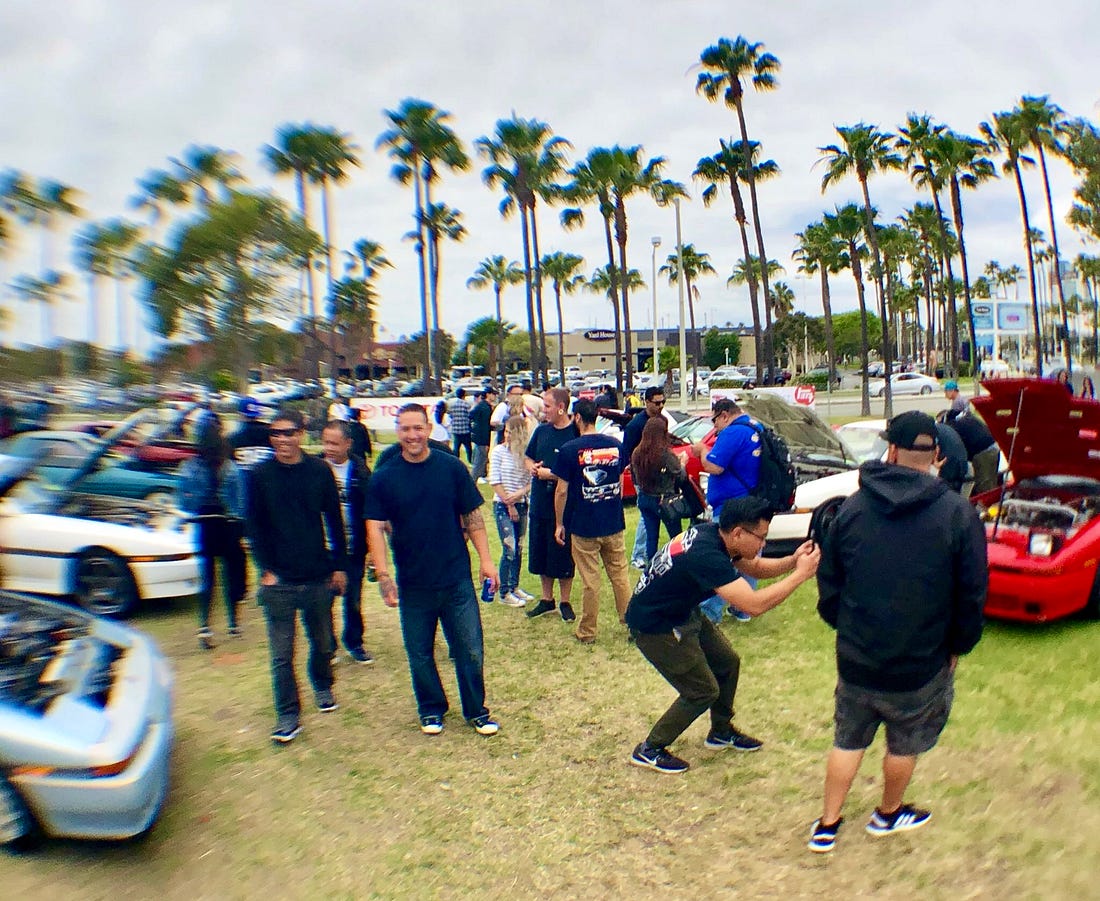 A weekly newsletter by Ryan ZumMallen | @zoomy575m
Good morning and Happy Race Day, especially to the only person in the U.S. certified to work on a McLaren F1.
Thank you to everyone who read the inaugural Race Day Newsletter last week. Many of you even took the time to share feedback with me or forward it along to a friend! Welcome and know that I truly appreciate your interest in this strange experiment.
This newsletter is Step One of my 2019 plan. Today I'm announcing that Step Two comes out August 19.
That's when my debut eBook will be available for download. It's called Slow Car Fast: The Millennial Mantra Changing Car Culture for Good. You can read the press release on the Carrara Media website right here.
Writing this book has been a joy. I dreamed and dreamed about doing it for what seemed like eternity, finally bringing the idea to my amazing wife Nikol on my birthday in 2017. I asked her to give me a year. It took two.
But here we are! I couldn't be more excited to work with the incredible people helping to make SCF a reality. Many gave their time, talent and gas money over the last two years. I promise to do you justice.
Stay tuned for more updates as the release date gets closer. Now on to Race Day!
Culture
Gridlife is where cars and their people go fast and get dirty:
The traveling automotive festival I like to call "Car Coachella" took to the track in Michigan last weekend for three nights of driving, dancing and partying.
Gridlife is known for its aggressive track times and extreme racing builds. But there is also camping, live music and a pure community feel to the whole thing. The sizzle reel is truly great. It's easy to imagine festivals like this becoming the future of car shows.
The next Gridlife track event is later this month near Chicago.
Period correct seatbelt pads are the new Hawaiian car shirt.
Goodwood Motor Circuit in the UK held a Supercar Sunday get-together that I'm still having trouble believing. Just an F1 GTR. No biggie.
Meanwhile, I had a blast at ToyotaFest here in Long Beach, which brought together an eclectic mix of the brand's performance models from the AE86 and Celica to the Supra and Century. The JDM vibes are strong with this generation. (See below.)
Everything from stanced Lexuses to off-road trucks had their chance to shine. There was even the Jack Daniel's Scion you didn't know you wanted.
Which Supra license plate at ToyotaFest was the best?
Kind of partial to Chicken Noodle myself. Leave your vote in the comments.
I'm obsessed with this Panamanian artist who uses iPad Pro to make the illest car art around.
The latest cross-country parade of exotics in wild ass paint jobs is called Megarun and it's currently in California on the way to Seattle.
A bunch of car designers are trying to out-nerd each other by drawing the smallest car sketch possible. It's called the Tiny Doodle Challenge.
Video Reel
Who's excited for Racecar Bourne and Racecar Batman? The trailer for Ford v Ferrari, out later this year, is here.
McLaren says its street-legal Senna supercar is so fast it challenges the performance of its real, actual racecars. So Chris Harris tracked them both.
A former video game racer provides commentary on his first real race as a pro driver. Cool to see how his gaming experience translates to the track.
Drifting up the side of a cliff is the most insane thing you'll see today.
Race Results
IndyCar driver Scott Dixon was given the Order of Merit by Queen Elizabeth II in the morning and won the Detroit Grand Prix in the afternoon. [Video highlights here.]
IndyCar rookie and MAGA dork Santino Ferucci hasn't done enough to merit a redemption story, says Elizabeth Blackstock, correctly.
A tight battle in the World Rally Championship as drivers attacked the picturesque Portugal countryside. Ott Tänak won to get within 2 points of the season leader. [Video highlights here.]
WRC 2 driver Jan Kopecký found himself with a slight issue:
Yes, that is considered a slight issue in rally. Kopecký finished the stage with the bonnet flipped up like that and didn't lose a position.
Acura took the win in Detroit to move into second place in the IMSA standings. Tight running at the top of the field this season. [Video highlights here.]
Happy Le Mans SZN. The pinnacle of motorsports is underway as testing began last week. Here's 70 seconds of racing bliss to get you geared up for the 24-hour race.
Toyota, unsurprisingly, ran at the top during practice. Unlikely they'll be challenged for speed during the race. But crazier things have happened!
Ask A Millennial! Grant Hudson, 22
Grant and his '94 Toyota Mark IV Supra. Photo by Ryan ZumMallen
At ToyotaFest I had the chance to visit with Grant (@omgitsjdm), a dyed-in-the-wool car nut who built his 200,000-mile Supra as a representation of his own personality. Here's an excerpt of our conversation:
I bought this with the intention of taking it to shows. My dad has an old Porsche and would take me to shows when I was a kid — I love meeting people who share the same passion. This show is about Toyotas but I love seeing all types. Back in the day you wouldn't be exposed to so many kinds of interesting cars, but with Instagram now everyone is connected.
I grew up watching the Fast & Furious movies. That's what drove me to the JDM cars. My Supra is older than me. This was the golden age of Japanese cars and you feel more connected to the driving experience. They don't build stuff like this anymore. They have the new 2020 Supra on display here but mine is just different.
This is definitely a cruiser. I'm not chasing quarter-mile drags. I love to take the top off and cruise down PCH. It's the perfect car for that, it's making about 400 horsepower at the crank so it's strong but not anything crazy. You hear all the engine noise and turbo flutter — newer cars try to eliminate that stuff. But it's part of the experience. It just makes me happy, ya know?
This Weekend In Car Culture
Radwood and LeMons Hooptiecon combine to create a supernova of ironically named auto events at NJ Motorsports Park. Bring your neon.
In the downtown L.A. area we have a new challenger entering the ring. Vintage watch seller Craft & Tailored will host a pop-up show at its Arts District location on Saturday. Interesting theme combining cars with automobilia and watches. I'm down.
And Finally…
Try not to get both your backhoes — yes, plural — stuck in a marsh today:
Drive hard and be safe.
Want your event included? Shoot me a note with subject line "Race Day" at ryan@carrarabooks.com.